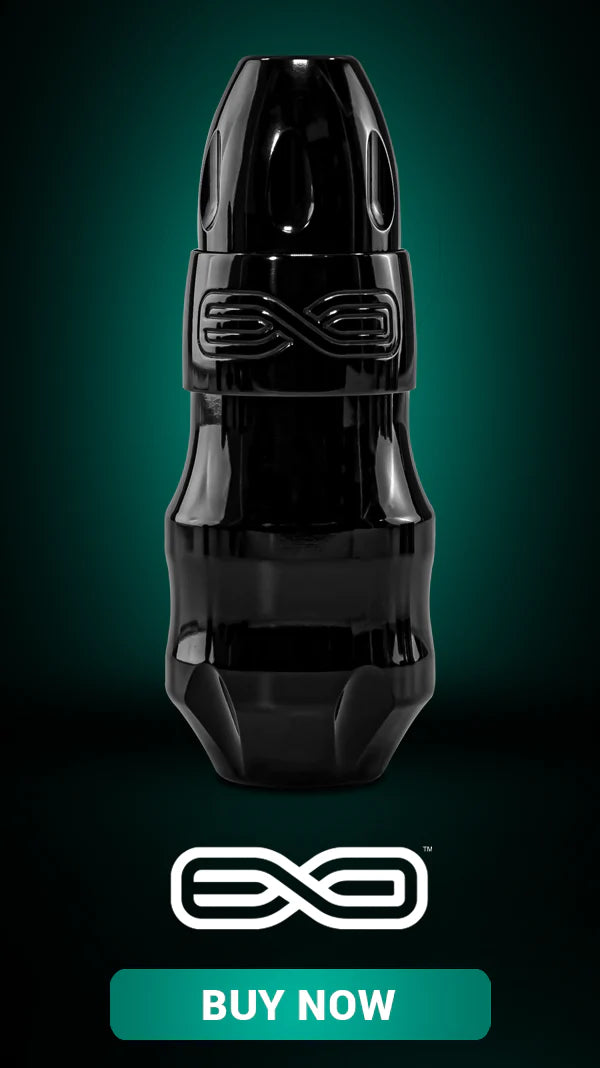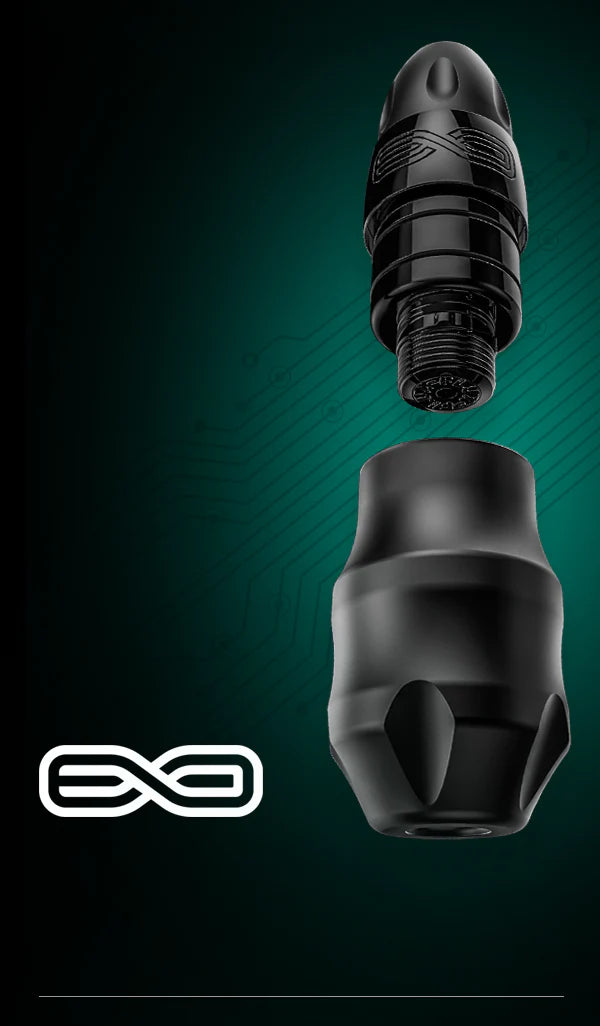 FKIRONS'
EXO IS...
OUR LATEST CREATION,
A MODULAR TATTOO
MACHINE WITH
LIMITLESS OPTIONS.
WIRED OR WIRELESS –
THE CHOICE IS YOURS.
A 9-watt brushless
motor, paired with
your choice of stroke.
ideal for power lining
and color packing.
UNSTOPPABLE

OPTIONS ARE YOURS
DETACH THE RCA MODULE WITH
A SIMPLE QUARTER-TURN
AND GO WIRELESS WITH THE
POWERBOLT BATTERY PACK
EXO UNIT WITH RCA MODULE - POWER
WITH A TRADITIONAL POWER
SUPPLY AND RCA CABLE OR WITH
THE HOVER TO ENABLE eGIVE
EXO UNIT with POWERBOLT - EASILY
CONVERT TO WIRELESS AND CONNECT
VIA BLUETOOTH TO THE DARKLAB APP
3 stroke options available
eGIVE READY WITH:
-RCA MODULE, RCA CABLE & HOVER OR WIRELESSLY
-WITH FUTURE DARKLAB APP UPDATES

THE SUM OF IT'S PARTS
A LARGER ERGONOMIC GRIP DELIVERS CONTROL
AND COMFORT. FRONT WEIGHTED, AIDING THE
ARTIST WITH DOWNWARD NEEDLE PRESSURE.
● 40 mm ergonomic grip
● forward weighted
● 9-watt brushless motor
● 2.5, 3.2 or 4.0 mm stroke
● reverse polarity protection
● easily convert to wireless with the PowerBolt
● ideal for color packing
● less passes to saturate ink, reducing skin trauma

AVAILABLE OPTIONS
STEALTH
BLACK OPS
2 POWERBOLT SET