Javier Antunez Unboxing the FLUX MAX from FK Irons!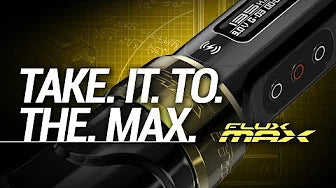 This Pro Team unboxing video comes with a guaranteed dose of smile fuel. Javi Antunez recruits some extra help👨‍👩‍👧 to unveil his new Flux Max with 4.5mm stroke.
Javi brought his Flux Max to the NIX Toronto Tattoo Show and made tattoo magic happen. Keep an eye out for his thoughts on using the machine and the finished piece. View Javi's work & follow on IG:
https://www.instagram.com/Javi_Tattoo...
For bookings & more: https://www.javitattooedtheory.com/co...
Flux Max brings you more control, more convenience and more innovation from inside out to take your skills to the max.
https://www.fkirons.com/products/flux...
https://www.fkirons.com/products/flux...
https://www.fkirons.com/products/flux...
https://www.fkirons.com/products/flux...
Three Available Stroke Options: 3.2 mm | 4.0 mm | 4.5 mm Modular Versatility:
The Flux Max is compatible with existing FK Irons grips, Powerbolt batteries, and Killswitch.
Comfortable, Durable Design: 7.23 oz. (205g)
Dynamic Power Path Management: Get reliable, consistent power levels.
Fully Built-In Digital Menu: Easily read battery life, change settings and power level.
Newly Designed Ergonomic Grip: 38 mm
Responsive eGive Settings: Choose from three levels of eGive (0-3).
Built-In Time Tracker: Track time during sessions directly on your machine.
Changing Power: View in both Volts and Hertz for improved accuracy.
Adjust power by 0.1 or 0.5. Bluetooth® Capability: Improved wireless connectivity and range.
Pair with Darklab mobile app for alternate setting controls and machine updates.
Detachable Battery: Compatible with existing PowerBolt and PowerBolt+ batteries.
Battery life: Up to 10 hours of battery (depending on power level).
Full charge in 2 hours when used with the included USB-C charging cable.
USB-C port: For best results, use USB-C charging cord included.
Power Supply: 4-12 Volts; 66-199 Hertz Engineered & manufactured in the USA